Below are the latest workshops I had the pleasure of doing. The workshops are linked to my artistic practice and/or experimental photography techniques (cyanosoil, alternative development with coffee, soil chromatography…). For any question or request, you can send me an email at cendre@mailo.com
(RE)DISCOVERING THE SLAG HEAPS

Maison du Patrimoine et des Lettres, Saint-Étienne
2-day workshop, June 2023
8 adults
Workshop part of the "Photographic walks" programmation of the Maison du Patrimoine et des Lettres. The workshop is organized around two photographic walks that allow you to develop a look around landscape photography and rediscover the coal slag heaps of the city. Participants were able to experiment with cameraless techniques such as cyanotype and lumen using elements collected on the slopes of the slag heaps, photographs taken and archive images.
2 photographic walks around Saint-Étienne's slag heaps
History of landscape photography
Cyanotype initiation using archival imagery
Cyanosoil experiments (cyanotypes combined with soil sampes)
Lumen print initiation with expired photographic paper and plants
INTRODUCTION TO FILM PHOTOGRAPHY

École des Mines, engineer school, Saint-Étienne
2,5-day workshop, June 2023
8 first-year students
Workshop part of Liberal Arts, a mandatory module for first-year students at the École des Mines. Introduction to black and white film photography from shooting to printing. The workshop involves three parts : a photographic walk to shoot with a film camera, the development of the film in coffee and then the selection and printing of the images, on photographic paper. From the photographs, the students made creative collages.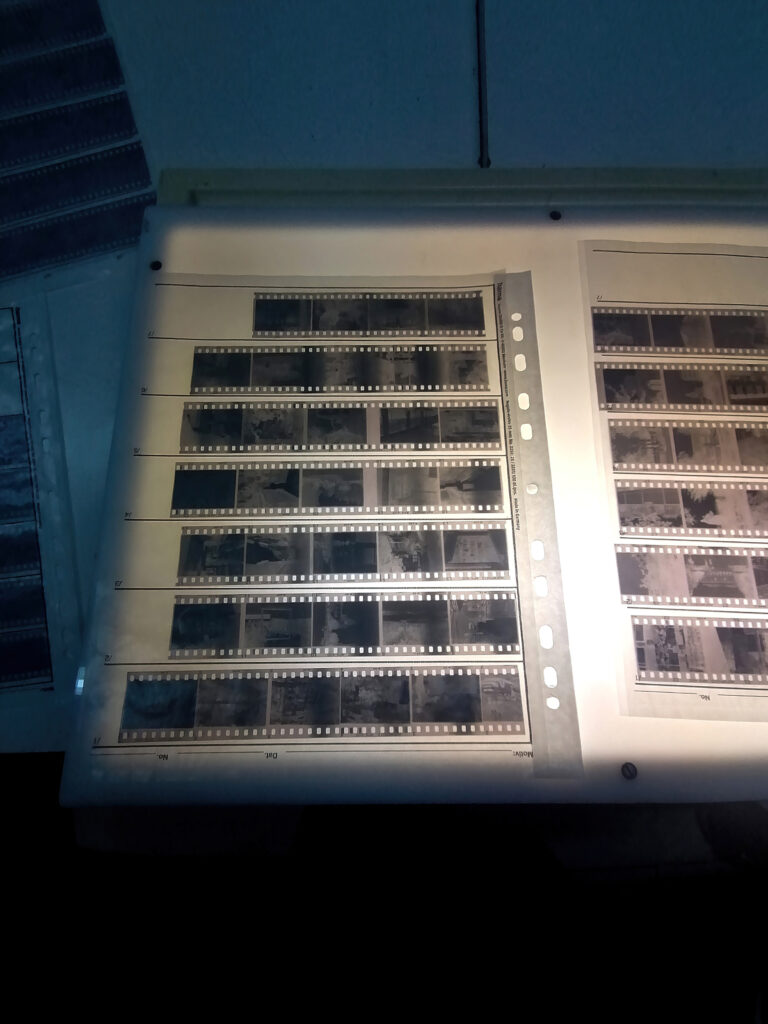 History of street photography
Hands-on workshop about framing and composition
Getting started with a film camera
Photo walk through the streets of Saint-Étienne
Film development with caffenol-C
Introduction to enlarger printing
Scanning negatives
Creative collage using prints